Final data integration finished from V2 software databases.
- Speed names fetched from V2 speed settings
- Nozzle names from V2 nozzle database
- Package informations from V2 package database
- Precision preset buttons added in feeder database
- Fast sync buttons for feeder import, feeder & SMT file export and restore of backed up feeder database in V2 software folder added
- Manual updated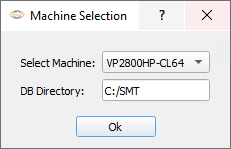 We added access to V2 software package database. Please open "Settings->Machine Selection" and setup V2 software path there.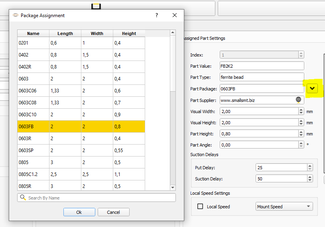 New Button appeared on all package name locations to assign data from package database.
- missing machine.ini added to setup
- X/Y coordinate checking updated in PCB settings
- SMT file import existing variants check added
- Machine settings dialog updated for VP2800HP-CL32 to VP2500HP-CL32
- need to select the right machine again to overwrite feeder base angle correction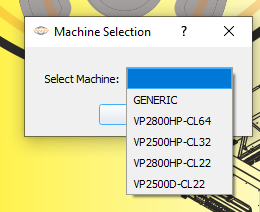 - empty components database caused crash if first parts added and saved bug   solved
- empty feeder database caused crash if first feeder added and saved bug solved
- CSV import CRLF detection problem solved if only LF found
- components search dialog added in feeder editor
- nozzle number in feeder database dialog now from 1..19
- 2 more GERBER layers TOP and BOTTOM added
- added project depending settings for graphical mark sizes in GERBER view
- added unicode support UTF8 / UTF16 to feeder and PNP file import
- fixed feeder export problems
- fixed feeder rotation angle problems
Please delete files in "DatabaseFiles" folder need to recreate during feeder file import if V1.03 previously used.
- Window sizes now saved global in app settings
- component database and feeder database dialog save on close improved
- Component stock storage increased.
Bugs removed:
- scaling not applied to SMT files only to CSV fixed
- TOP and BOT layer parts not separated well if double PNP file import used (EAGLE)
New features:
- Component database added
- Feeder database added
- New Feeder browser added showing feeders assigend in project and warning if
- Flexible feeder assignment added
- Feeder assignment logic added
- Feeder export to V2 software added
- Warning feeder part value not equal to PNP list part value
- Copy and rename feeder groups
- Sorting on all column headers added
- Feeder export finished
- Mouse over information in gerber view, feeder browser, part list
- Feeder browser and PNP list are docking windows
- New THT report flag added to support hand placed parts. Selection allows to add filter for only SMT or THT parts.
- New THT report added to print menu.
- CSV PNP data import has ";" separator option added.
- Reports use report type name in headline now.
Updated on 02.11.2020 print dialog problems solved!
If you update existing installation please delete platforms folder first!
- Updates vision flags in SMT export now correctly. You need to re assign feeder again to take changes effect.
- Delete on multiple selected rows now added