---
Our new pick and place machine for the entry into SMD placement is called PANDA. This machine V2 is based on a standard XY system and is offered in 2 versions.
In the Basic version, an external Windows PC is required for control, which is connected to it via Ethernet and USB.
The PANDA PRO has cover, Z axis sensor and optional embedded industrial PC.
Both machines have  0.01mm X/Y resolution.

All feeders are created from durable aluminium rather than printed plastic. We have built in push feeders on 3 sides with 43x8mm, 19x 12mm, 9x 16mm and 2x24mm lines. Any tray can be mounted in the work area and depending on the PCB size, other software defined feeders can also be set up.

3 cameras with 640x480mm resolution are installed.
The bottom cameras have different optics that can align components up to 30x30mm.
PCB size 300x300mm possible and if JEDEC Tray installed 300x170mm left.
And now the best news the prizes!
The PANDA BASIC variant will start at 3799usd
the PANDA PRO will cost 4399usd.

SMALLMT PANDA BASIC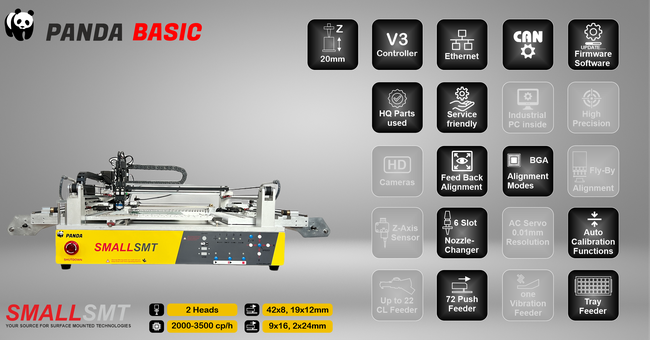 SMALLSMT PANDA PRO
This version has optional embedded industrial I5 PC including windows 10 pro license.
Only external Monitor and air compressor needed to operate machine.
You can add to your network for file transfer and updates.